Agardite - Encyclopedia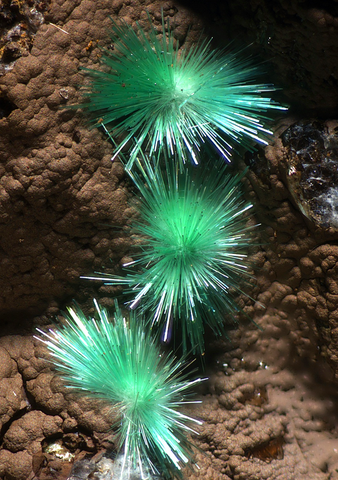 Class : Phosphates, arsenates, vanadates
Subclass : Hydrated Arsenates
Crystal System : Hexagonal
Chemistry : (Y,Ca)Cu6(AsO4)3(OH)6 3H2O
Rarity : Very rare


Agardite is a very rare rare-earth copper complex arsenate known from the oxidized superficial part of copper deposits. It is named according to the dominant rare earth element : agardite-(Ce), agardite-(La), agardite-(Nd) or agardite-(Y). It owes its name to Jules Agard, a BRGM metallogenist who discovered the species. Its fine acicular crystals do not exceed 5 mm and take on a beautiful water-green to blue-green color. Sometimes cavernous, they are frequently grouped in rosettes or fibroradiated aggregates. This mineral has no particular use. Photo © Schreiber Fritz - Agardite from Hilarion Mine, Kamariza, Laurion, Greece
Agardite in the World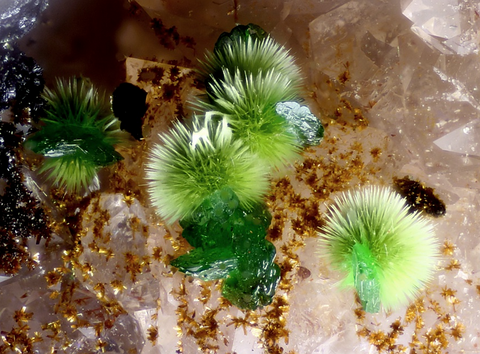 The most beautiful agardite formations are found in the Laurion (Greece), at the Moroccan mine of Bou-Skour, at the Clara mine (Germany) and in various other copper deposits throughout the world.
Agardite in France
This extremely rare mineral is associated with mixite and other copper arsenates at Faymont (Val d'Ajol, Vosges). It is also reported at Cap Garonne (Var), at Chessy (Rhône), and at Villefranche-de-Rouergue (Aveyron), see photo on the right © Jean-Vincent Coureau.
Twinning
No known twin for this mineral species.
Fakes and treatments
No fake reported for this mineral species.


---
Hardness : 3 to4
Density : 3.6 to 3.7
Fracture : -
Trace : White-green



---
TP : Translucent to transparent
RI : 1.701 to 1.815
Birefringence : 0.075
Optical character : Uniaxial +
Pleochroism : None
Fluorescence : None
---
Solubility : Hydrochloric acid

Magnetism : None
Radioactivity : None