Barbosalite - Encyclopedia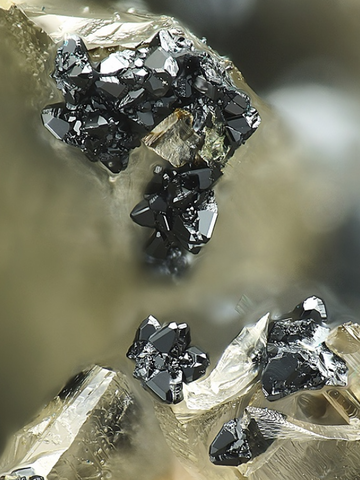 Class : Phosphates, arsenates, vanadates
Subclass : Anhydrous phosphates
Crystal System : Monoclinic
Chemistry : Fe3(PO4)2(OH)2
Rarity : Rare


Barbosalite is a secondary phosphate formed by hydration and oxidation of primary phosphates (mainly triphylite) in complex granitic pegmatites. It owes its name to the Brazilian mineralogy professor Aliuzio Licinio de Mirande Barbosa of the School of Mines of Ouro Preto. Its crystals are squat prisms up to very small cuboids (0.25 mm). Most often this mineral forms powdery coatings and encrustations of microcrystals. Its color is very dark blue to black.
Main photo : Barbosalite from the Sandamap pegmatite, Daures Constituency, Erongo, Namibia © Stephan Wolfsried

Barbosalite in the World
The pegmatite from the Criminoso mine, near Agua Boa (Brazil) yielded beautiful crystals. The best occurrence in the world, however, remains the pegmatite of Bull Moose (South Dakota) from which masses of barbosalite exceeding 100 kg have been extracted, concealing small geodes lined with crystals of this mineral, and large crystals of strengite and metastrengite. Barbosalite is also known in the pegmatite of Sapucaia (Minas Gerais, Brazil), and in several other pegmatites of Portugal, the United States, Australia and Rwanda.
Barbosalite in France
In France, barbosalite has been described in Bessines-sur-Gartempe (Haute-Vienne).
Twinning and special crystallizations
The contact twins are described following (001) as a composition plan.
Fakes and treatments
No fake or treatment identified for this mineral species.


---
Hardness : 5.5 to 6
Density : 3.6
Fracture : Conchoidal
Trace : Blue to dark green



---
TP : Opaque to translucent
RI : 1.760 to 1.840
Birefringence : 0.075
Optical character : Biaxial +
Pleochroism : Visible
Fluorescence : None
---
Solubility : Hydrochloric acid

Magnetism : None
Radioactivity : None