Berthierine - Encyclopedia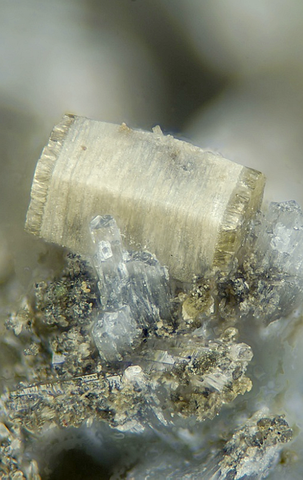 Class : Silicates
Subclass : Phyllosilicates
Crystal System : Monoclinic
Chemistry : (Fe,Al)3(Si,Al)2O5(OH)4
Rarity : Uncommon


Berthierine is a complex phyllosilicate close to chlorite and glauconite. It is a probably fairly common but unattractive weathering mineral that is often difficult to characterize with certainty. It was named in honor of the French chemist Pierre Berthier. Berthierine is found in various environments, particularly in marine sediments, in certain lateritic or polar soils, in coal deposits, and quite often in iron formations such as Hayange (Lorraine) or Knob Lake (Canada). Berthierine forms tiny flakes agglomerated into microcrystalline oolitic aggregates, of a dark olive green to dark yellowish green hue.
Main photo : Berthierine from Poudrette Quarry, Quebec, Canada © Alex Earl
Berthierine in the World
Its deposits are numerous, however only Mont Saint-Hilaire (Canada) has yielded aesthetic specimens.
Berthierine in France
In France, it is present at Hayange (Moselle), the type locality, it has also been described at the Bois de la Roche quarry (Loire-Atlantique) and at Kerbizien (Finistère).
Twinning and special crystallizations
No known twin for this mineral species.
Fakes and treatments
No fake or treatments identified for this mineral species, but difficult to identify without heavy laboratory equipment.


---
Hardness : 2.5
Density : 3.06
Fracture : Irregular
Trace : White-green


---
TP : Translucent
RI : 1.620 to 1.650
Birefringence : 0.030
Optical character : Biaxial
Pleochroism : Low
Fluorescence : None
---
Solubility : Insoluble

Magnetism : None
Radioactivity : None