Carrollite - Encyclopedia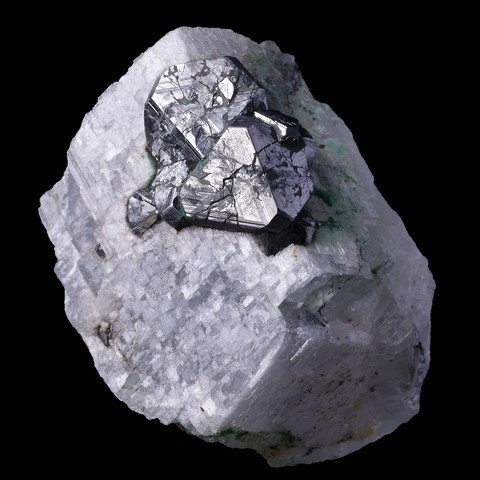 Class : Sulfide and sulfosalt
Subclass : Sulfide
Crystal System : Cubic
Chemistry : Co2CuS4
Rarity : Rare


Carrollite belongs to the linnaeite group, the name of the most common mineral. This group of general formula X3S4 (with X=Co, Ni, Fe, or [Co + Cu]), can be put in parallel with that of spinels, sulfur replacing oxygen ; octahedral facies is also most common in both groups. The linnaeite group is composed of three solid solutions : Co (linnaeite) - Ni (polydimite), the intermediate term being siegenite ; Ni (polydimite) - Fe (greigite), the intermediate term being violarite and Co (linnaeite) - Cu. This last solid solution being the only one to be incomplete since stopping at the carrollite. Carrollite is a rare cobalt and copper sulphide from cobalt, nickel and copper hydrothermal deposits. It owes its name to its locality of discovery : Finksburg, Carroll County, Maryland, USA. From a luminous gray hue to a slightly pinkish steel gray, the crystals deteriorate under surface conditions to give black-colored asbolans. It is sought after by mineral collectors although little known, it is also a very accessory cobalt ore.
Carrollite in the World
The most beautiful crystals of carrollite come from the copper and cobalt deposits of Katanga (Democratic Republic of Congo), and more particularly from Kamoya, but are most often in masses or xenomorphic grains. Although most crystals hardly exceed one centimeter, the largest known crystals measure more than 10 cm and are associated with white calcite rhombohedra. The American type-locality provided only millimetric crystals.
Carrollite in France
Carrollite is not present in the French underground.
Fakes and scams
Some crystals of carrollite can be glued on their calcite matrix.


---
Hardness : 4.5 to 5.5
Density : 4.5 to 4.8
Fracture : Irregular to conchoidal
Trace : Grey-Black



---
TP : Opaque
IR : -
Biréfringence : -
Caractère optique : -
Pléochroïsme : -
Fluorescence : None
---
Solubilité : Nitric acid

Magnétisme : None
Radioactivité : None