Celestite - Encyclopedia
Class : Sulfates, chromates, molybdates
Subclass : Anhydrous sulfates
Crystal system : Orthorhombic
Chemistry : SrSO4
Rarity : Common
Celestite (or celestine) is a common sulphate that forms a continuous series with baryte. It is a mineral of sedimentary origin, typical of evaporitic deposits where it is associated with gypsum, anhydrite or dolomite. Celestite is also known in clusters and geodes in limestones and sandstones, more rarely as a matrix of hydrothermal lead veins (Pontpéan, France). It takes its name from the latin caelestis (heavenly), due to its pale blue color. Celestite occurs in flattened or elongated tabular crystals, resembling those of barite, they are sometimes acicular and grouped in clumps. It also forms small fibrous veins, nodules or sometimes globular masses. Celestite is colorless, white, gray or brownish, and the pale blue color to which it owes its name is less common. Celestite is an important ore of strontium used in pyrotechnics, agri-food, and more limited in medicine.
Celestite in the World
The most beautiful crystallization of celestite come since 1967 from Madagascar (Sakoany), where beautiful transparent blue crystals that can exceed 10 cm and geodes can reach the meter ! Mexico has also produced very beautiful crystals in Matehuala (San Luis Potosi) of a deep blue and up to 40 cm. In Sicily (Agrigento, Catania, Caltanissetta) celestite associated with sulfur is found in white to bluish decimetric crystals. At Put-in-Bay (Ohio) pale blue crystals implanted in dolostone geodes can reach 75 cm. Good specimens have also been found in England (Clifton), Scotland (Strontian), USA, Canada, Poland and Germany.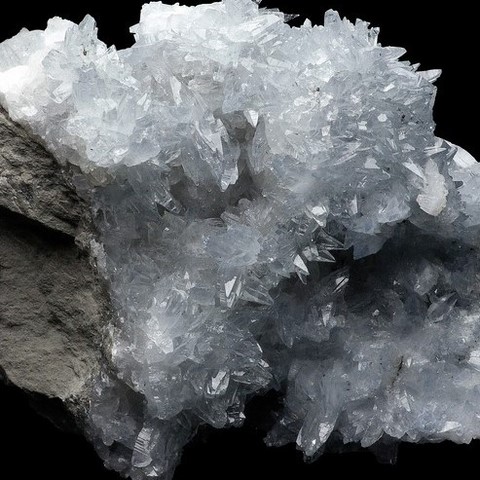 Celestite in France
In France, elongated bluish crystals of 5 cm are known in the Alpine Triassic at Bousvesse-Quirien (Isère), but also in smaller cristals at Montalieu (picture on left), Oppédette (Alpes-de-Haute-Provence), Condorcet (Drôme), Pimont (Jura), Brousseval (Haute-Marne), Clavelas (Hautes-Alpes).
Twinning and special forms
Twinning is rare and difficult to observe.
Due to sedimentary origin of celestite, it can potentially epigenize some fossils even if this does not seem to have been observed yet.

Fakes and scams
There are no fake records for this species.


---
Hardness : 3 to 3.5
Density : 3.9 to 4
Fracture : Irregular
Trace : White



---
TP : Transparent to opaque
IR : 1.621 to 1.632
Birefringence : 0.009 to 0.010
Optical character : Biaxe -
Pleochroism : Very weak
Fluorescence : White, blue
---
Solubility : Nitric and hydrochloric acid

Magnetism : None
Radioactivity : None