What are the benefits of leopardite ?
Physical benefits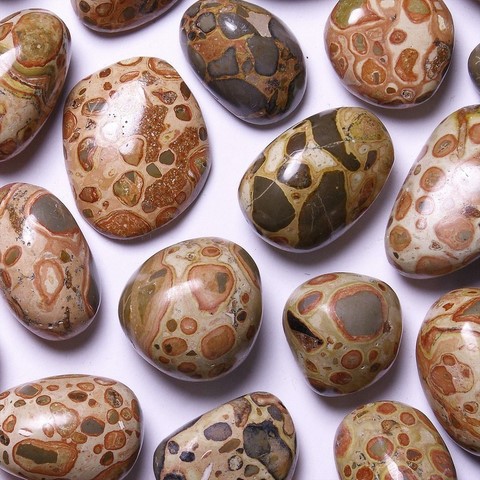 In lithotherapy, leopardite jasper is used for the digestive system, soothing the stomach, liver, gallbladder and contributing to blood circulation. This jasper is associated with the root chakra and the sacred chakra.
Psychic benefits
The leopardite jasper balances emotions and improves self-esteem. This jasper has peaceful energy and helps manage emotional stress and difficult situations. It is a stone that helps sort and solve problems. It helps to give and receive forgiveness and to reduce guilt and fear of past mistakes. It is also believed that this stone helps to mitigate negative emotions such as hatred, insecurity and anger. This stone also helps to bring abundance, which can lead to success in work and business. It is also thought to help increase creative abilities. It is also a stone of protection against negativity. He gives the courage to speak and to have a personal independence. It also protects fears and brings prosperity and luck.
Warning :
All the informations contained on this page is given as an indication and presents esoteric benefits and popular beliefs. They are in no way medical advice and can not be used as a substitute for medical treatment. Only your doctor has the skills needed to diagnose a possible pathology and make the appropriate prescription. This information relates the traditional properties of stones in lithotherapy as indicated by many references.