Veszelyite - Encyclopedia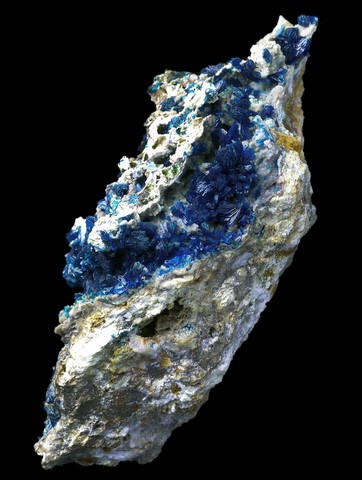 Class : Phosphates, arsenates, chromates
Subclass : Hydrated phosphates
Crystal system : Monoclinic
Chemistry : (Cu,Zn)3(PO4)(OH)3 2H2O
Rarity : Rare


Veszelyite is a secondary phosphate of copper and zinc present in the oxidation zone of base metal deposits, mainly those containing copper. It was named in honor of the Hungarian mining engineer A. Veszelyi who discovered the mineral in Moravicza (Romania). Veszelyite forms short prismatic or thick tabular crystals and pseudo-octahedra, sometimes grainy crystalline aggregates or rosettes, dark blue to greenish blue in color.
Main photo : Veszelyite of Dongchuan, Kunming, Yunnan, China
Veszelyite in the World
It is a rare mineral whose largest known crystals are 5 cm individuals from Black Pine, near Philipsburg (Montana). Since 2019, the Chinese field of Dongchuan (Yunnan) has produced superb centimeter-sized blue rosettes. The Congolese deposit of Kipushi also provided beautiful specimens, hence the old name "kipushite", formerly attributed to veszelyite. It is also known in particular in Romania (Moravicza and Ocna de Fier), in Bosnia-Herzegovina, in Japan (Kamioka and Arakawa) and in the Zambian mine of Broken Hill, near Kabwe.
Veszelyite in France
Veszelyite is not present in the French underground.
Twinning
No twin known for this mineral species.
Fakes and treatments
No fake identified for this mineral species.


---
Hardness : 3.5 to 4
Density : 3.4
Fracture : Irregular
Streak : Green to white


---
TP : Translucent
RI : 1.618 to 1.695
Birefringence : 0.040 to 0.055
Optical character : Biaxial +
Pleochroism : Low
Fluorescence : None
---
Solubility : Acids

Magnetism : None
Radioactivity : None