Andersonite - Encyclopedia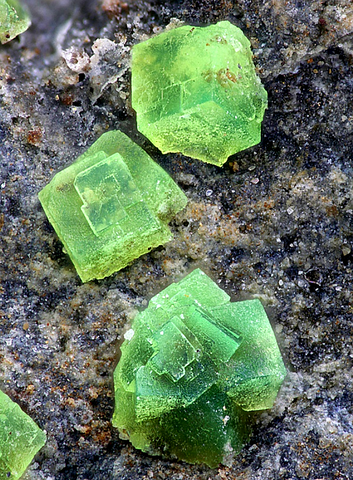 Class : Carbonates, Nitrates, Borates
Subclass : Uranyl carbonates
Crystal System : Trigonal
Chemistry : Na2Ca(UO2)(CO3)3 6H2O
Rarity : Rare
Andersonite is a green-yellow secondary uranium carbonate which crystallizes in the oxidation zone of uranium deposits, associated with other secondary minerals of this metal (liebigite, carnotite, etc...). It was named in honor of Charles Alfred Anderson, a member of the U.S. Geological Survey, who discovered it. It is a mineral which forms small rhombohedral crystals of 1 cm at most, sometimes pseudocubic, as well as thick encrustations. This mineral has no particular use.
Andersonite in the World
Andersonite is particularly known for its green-yellow efflorescences which it forms in the galleries of uranium mines (Hillside, Arizona and Geevor in England). The best samples, however, come from the uranium deposits that dot the Colorado Plateau : the mines in the district of Moab (Utah), where magnificent 10 mm crystals have been collected, and Ambrosia Lake, near Grants in New Mexico.

Main photo : Andersonite from Bukov Mine, Czech Republic - © Serge Lavarde and Luigi Chiappino's collection
Andersonite in France
In France, andersonite is reported in sub-millimetric crystals in the Mas Lavayre quarry south of Lodeve (Hérault).
Twinning
No twin report for this mineral species.
Fakes and treatments
No fake reported for this species.


---
Hardness : 2.5
Density : 2,80
Fracture : Irregular
Trace : Yellow



---
TP : Translucent to transparent
RI : 1.520 to 1.540
Birefringence : 0.020
Optical character : Uniaxial +
Pleochroism : Not visible
Fluorescence : Green-yellow
---
Solubility : Water

Magnetism : None
Radioactivity : Strong