Arsentsumebite - Encyclopedia
Class : Phosphates, arsenates, vanadates
Subclass : Anhydrous arsenates
Crystal System : Monoclinic
Chemistry : Pb2Cu(AsO4)(SO4)(OH)
Rarity : Very rare


Arsentsumebite is a complex arsenate of lead and copper. It is a secondary mineral which accompanies malachite, cerussite, azurite within a procession of secondary lead, copper and iron minerals, in the oxidation zone of certain polymetallic deposits. Its name derives from its chemical composition and from the Tsumeb deposit in Namibia, its type locality. Crystals up to 2 mm in size are frequently twisted and assembled into aggregates or encrustations of a beautiful grass-green to apple-green color.
Main photo : Arsentsumebite from La Estrella Mine, Andalusia, Spain © Jean-Pierre Barral


Arsentsumebite in the World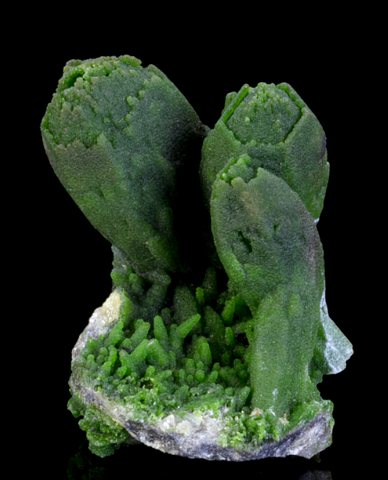 Arsentsumebite is a very rare mineral known in less than 10 localities around the world : Tsumeb (Namibia), the Clara mine (Germany) gave the most representative specimens. The most spectacular being superb arsentsumebite pseudomorph after azurite or mimetite.

Photo : Arsentsumebite pseudomorph after mimetite from Tsumeb, Namibia © Rob Lavinsky
Arsentsumebite in France
In France, arsentsumebite has been described at Montmins (Allier), at Cap Garonne (Var), at the Tistoulet mine (Aude) and at La Verrière (Rhône), the samples are anecdotal.
Twinning and special crystallizations
No twin known for this mineral species. Azurite and mimetite pseudomorphs are known.
Fakes and treatments
No fake or treatment identified for this mineral species.


---
Hardness : 4 to 5
Density : 6.46
Fracture : Irregular
Trace : White to pale green



---
TP : Translucent
RI : 1.970 to 2.011
Birefringence : 0.041
Optical character : Biaxial -
Pleochroism : Visible
Fluorescence : None
---
Solubility : -

Magnetism : None
Radioactivity : None