Claringbullite - Encyclopedia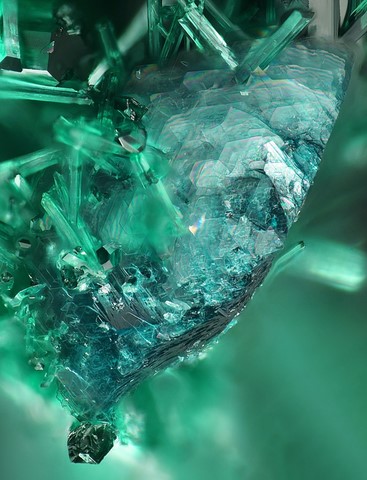 Class : Halides
Subclass : Oxychlorides
Crystal system : Hexagonal
Chemistry : Cu4Cl(OH)7
Rarity : Very rare


Claringbullite was discovered in 1973, almost simultaneously on samples from the Nchanga mine (Zambia), the M'Sesa mine (Congo) and Bisbee (Arizona, USA). It forms, like the atacamite with which it is associated, in the oxidation zone of copper deposits. It is also known in oxidized copper slag. Its name is dedicated to Gordon Frank Claringbull, director of the Natural History Museum in London. It occurs in blue lamellar crystals grouped in slightly divergent aggregates reaching a millimeter, in geodic voids of cuprite (Katanga) or quartz (Nchanga).
Main photo : Claringbullite and brochantite from Cole Mine, Bisbee, Arizona, USA © Stephan Wolfsried
Claringbullite in the World
The most beautiful claringbullite crystals come from Bisbee (Arizona, USA), they are sub-millimeter transparent blue-green hexagonal lamellae. It is also found in Ojuela (Mexico), in the mines of Laurion (Greece), in lamellar masses on the deposits of Katanga (Democratic Republic of Congo) and in the slag of Carpenara (Italy).
Right photo : Claringbullite from Tenke Mine, DR Congo © Joy Desor
Claringbullite in France
In France, claringbullite is described at the old Roua copper mine near Nice (Alpes-Maritimes).
Twinning
No twins known for this mineral species.
Fakes and treatments
No fake identified for this mineral species.


---
Hardness : -
Density : 3.9
Fracture : Irregular
Streak : White


---
TP : Translucent to transparent
RI : 1.780 to 1.782
Birefringence : 0.002
Optical character : Uniaxial -
Pleochroism : Not visible
Fluorescence : None
---
Solubility : -

Magnetism : None
Radioactivity : None