Descloizite - Encyclopedia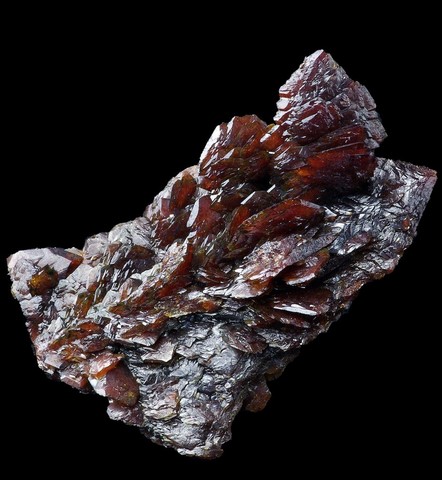 Class : Phosphates, arsenates, vanadates
Subclass : Anhydrous vanadate
Crystal system : Orthorhombic
Chemistry : PbZn(VO4)(OH)
Rarity : Uncommon

Descloizite is an oxidation mineral of basic metalliferous deposits (Pb, Zn, Cu) containing vanadium and is found mainly in the hot desert regions of the globe. It forms a complete series with the mottramite, its copper equivalent. It is a mineral that owes its name to the French mineralogist Alfred Louis Olivier Legrand Descloizeaux who described the mineral. Descloizite occurs as short, sometimes elongated, prismatic crystals or as octahedra, generally grouped in incrustations, in parallel growth aggregates with a tree-like appearance, or in botryoidal masses with a fibrous structure. Its color is brownish red, sometimes brown-orange to orange or metallic gray. Descloizite can exceptionally be exploited as vanadium ore, but presents no other particular use, its crystals are appreciated and sought after by mineral collectors.
Descloizite in the World
The best descloizite samples are from the Grootfontein-Abenab-Tsumeb mining district where it is associated with mottramite ; the Berg Aukas mine has thus produced superb pyramidal centimetric red-brown crystals grouped in tree structures and that of Abenab greenish crystals. Descloizite is also known in the Arizona zinc and copper mines (Bisbee, Christmas, Tiger) and in millimetric incrustations in the Shrewsbury mine, UK. Very fine specimens with crystals up to 10 cm long with "christmas tree" facies often covered with
mimetite
also come from Shah Milleh Mine in Iran.
Descloizite in France
In France, descloizite was identified as microcrystals in the Cap Garonne mine in Var department but also in Longefay (Rhône) and in the Rivet quarry at Réalmont (Tarn).
Fakes and scams
No fake registered for this mineral species.


---
Hardness : 3 to 3.5
Density : 6.2
Fracture : Irregular to sub-conchoidal
Streak : Orange to brown


---
TP : Opaque to transparent
IR : 2.18 to 2.35
Birefringence : 0.165
Optical character : Biaxial -
Pleochroism : Weak to strong
Fluorescence : None
---
Solubility : Acids

Magnetism : None
Radioactivity : None