Stolzite - Encyclopedia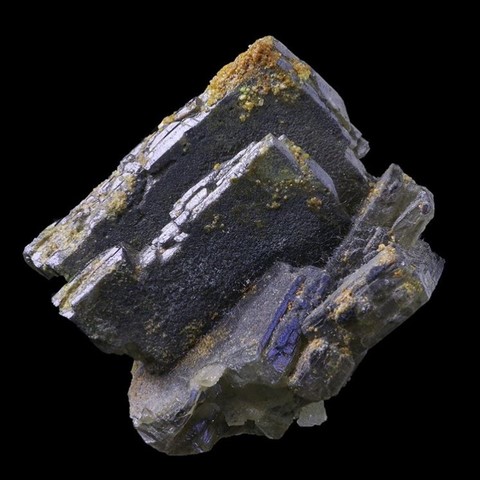 Class : Sulphates, chromates, molybdates
Subclass : Tungstates
Crystal system : Tetragonal
Chemistry : PbWO4
Rarity : Rare


Stolzite is a rare oxidation mineral of lead deposits containing tungsten, and tin-tungsten deposits with accessory galena. It forms a discontinuous isomorphic series with wulfenite, the intermediate term being chillagite. It owes its name to Joseph Alexander Stolz, who was first interested in this mineral. Like wulfenite, stolzite frequently occurs in thick, flattened square tablets, more rarely in more or less acute octahedra. Its luster is adamantine and its color variablen: yellowish brown to greyish brown, sometimes red to orange. Often confused with wulfenite, although its colors are more vivid, it was recently considered very rare. It is a mineral sought after by collectors.
Stolzite in the World
Excellent lamellar crystals, on psilomelane matrix, were extracted in relative abundance from the Australian mine at Broken Hill between 1890 and 1930 ; they exhibited a wide range of habits but did not exceed 25 mm. Stolzite is also known in Tsumeb (Namibia) but seems to be extremely rare there (only one 25 mm crystal reported). Other deposits exist around the world but do not seem to have produced remarkable crystals.
Stolzite in France
The largest crystals in the world come from the small lead mine in Sainte-Lucie (Lozère, France) : the brown-yellow tabular specimens measure up to 6 cm across. The kaolin quarries at Echassières also produced millimetric crystals.
Twinning
Stolzite has no twinned crystals known.
Fakes and scams
No scam known for this mineral.


---
Hardness : 2.5 to 3
Density : 8.34
Fracture : Irregular to conchoidal
Trace : White


---
TP : Opaque to transparent
RI : 2.19 to 2.27
Birefringence : 0,090
Optical character : Uniaxial -
Pleochroism : Visible
Fluorescence : White-green
---
Solubility : Hydrochloric acid

Magnetism : None
Radioactivity : None