Smithsonite - Encyclopedia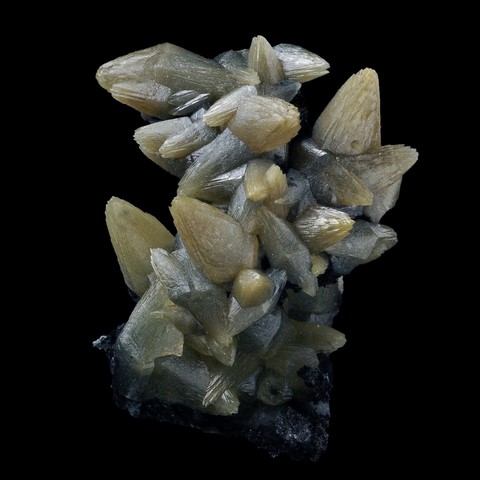 Class : Carbonates, Nitrates, Borates
Subclass : Anhydrous carbonates
Crystal system : Rhombohedral
Chemistry : ZnCO3
Rarity : Common

Smithsonite is one of the most common oxidation minerals in zinc deposits. It is particularly abundant in carbonated environments. It owes its name to the British chemist and mineralogist James Smithson (1754-1829), founder of the Smithsonian Institution in Washington. The smithsonite is usually in concretions or in stalactitic masses, sometimes fibroradicated, with hilly surface or bristling with small crystalline points. These masses are often colored reddish-brown by goethite, and hollowed cavities which gives them an unconventional appearance and does not facilitate identification. Pure smithsonite is naturally colorless, but the partial substitution of zinc by many metals (up to 20% iron, 9% manganese, 6% copper, etc...) leads to large variations in color ; thus, it can be brown to yellow-brown with iron, blue to blue-green with copper, more rarely pink with cobalt ; micro-inclusions of greenockite color it in yellow. The crystals are rare, most often rhombohedral or scalenohedral. Unalterable, smithsonite remains at the top of the zinc deposits and is therefore an excellent prospecting guide. It remains a zinc ore sometimes important. It is sought after collectors of minerals and can be an interesting ornamental stone, sometimes also used in jewelry.
Smithsonite in the World
Magnificent 10 cm rhombohedral crystals and 5 cm yellow scalenohedral crystals with gemmy yellow, green, or pink color, were found in Abenab and Tsumeb (Namibia). The large Australian Broken Hill deposit produced remarkable 3 cm blue-green crystals, large yellowish crystals and botryoidal clusters. The hilly smithsonite (botryoidal) is a very beautiful specimen of blue to green at the Kelly mine (New Mexico) where it was mined from zinc. Mexico (Santa Eulalia and Choix Mine) also supplied stalactites larger than 25 cm and masses of varied hues. In Europe the Greek mines of Laurion are famous for their beautiful blue to green inlays.
Smithsonite in France
In France, smithsonite is present in micro-crystallizations in very many localities. The "blue mine" of Chessy (Rhône) produced very bright green apple-colored rhombohedral crystals of several centimeters which was reputed to be the best in the world before the discovery of those of Tsumeb.
Smithsonite and special forms
No twinning known for this species. By its geology, smithsonite can be associated with certain fossils ; in Santa Eulalia, Mexico, it can partially replaced bivalves.
Fakes and scams
No fake inventories for this species.


---
Hardness : 4 to 4.5
Density : 4.42
Fracture : Irregular to sub-conchoidal
Trace : White



---
TP : Translucent to transparent
IR : 1.619 to 1.850
Birefringence : 0.223 to 0.227
Optical character : Uniaxial -
Pleochroism : Weak
Fluorescence : White, blue, green
---
Solubility : Acids

Magnetism : None
Radioactivity : None