Anapaite - Encyclopedia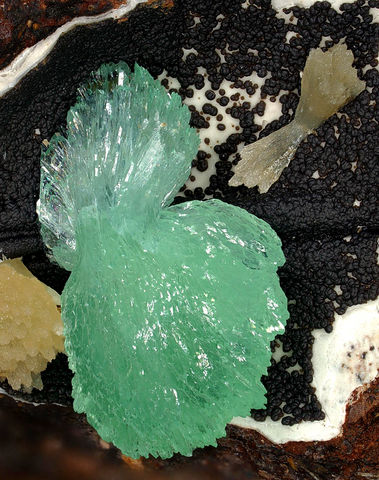 Class : Phosphates, arsenates, molybdates
Subclass : Hydrated phosphates
Crystal System : Triclinic
Chemistry : Ca2Fe(PO4)2 4H2O
Rarity : Very rare


Anapaite is a very rare iron and calcium phosphate encountered in the alteration of primary phosphates in different contexts (oolitic iron ore, pegmatites, etc...) as well as in clayey or bituminous sediments. Its name comes from its locality of discovery : the limonite mines of Zheleznyi Rog, near Anapa (Russia). It forms small tabular crystals no larger than 1 cm frequently united in rosettes, subparallel crystal encrustations and fibrous nodules, green to pale green in color. It is a sought-after mineral for collectors.
Anapaite in the World
The finest specimens come from Kerch, Crimea (Ukraine) and interesting geodic concretions have been discovered in the Miocene clays of Bellver de Cerdena in Catalonia (Spain). Anapaite is also known in the famous pegmatite of Palermo (New Hampshire).

Main photo : Anapaite from Kerch, Crimea, Ukraine - © Uwe Kolitsc
Anapaite in France
Anapaite is not reported in the French underground.
Twinning
No twin report for this mineral species. On the other hand, anapaite crystals can line the inside of fossil bivalves on the Kerch deposit (see photos).
Fakes and treatments
No fake reported for this species.


---
Hardness : 3,5
Density : 2.81
Fracture : Irregular
Trace : White



---
TP : Translucent to transparent
RI : 1.602 to 1.649
Birefringence : 0.037
Optical character : Biaxial +
Pleochroism : Not visible
Fluorescence : None
---
Solubility : Hydrochloric or nitric acid

Magnetism : None
Radioactivity : None