Cafarsite - Encyclopedia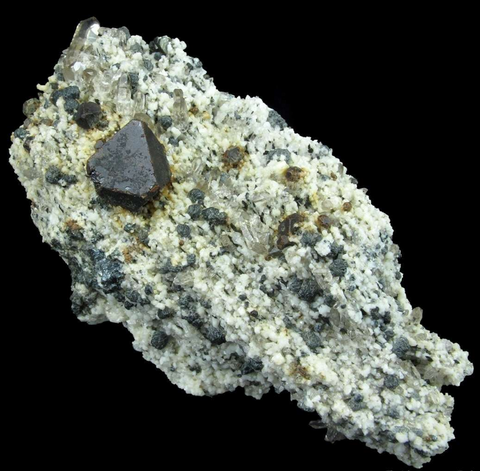 Class : Oxides and hydroxides
Subclass : Arsenites
Crystal system : Cubic
Chemistry : Ca8(Ti,Fe,Mn)6-7(AsO3)12 4H2O
Rarity : Very rare


Cafarsite is an extremely rare arsenate of calcium, manganese and titanium, known mainly in the cracks of metamorphic rocks. It is a mineral which owes its name to its chemical composition (calcium + iron + arsenic). It occurs in cubo-octahedra, octahedra, cubes and pentagonododecahedra, sometimes centimetric, dark brown to red-brown in color, frequently altered.
Main photo : Cafarsite from Monte Cervandone, Italy © Rob Lavinsky
Cafarsite in the World
The best crystals, reaching up to 5 cm, are found in the
orthogneisses
, on the Italian and Swiss slopes of Mount Cherbadung (the "Pizzo Cervandone" in Italy). Cockarsite is also described at the Hemlo gold mine (Canada).
Cafarsite in France
is not present in the French underground.
Twinning
No twin known for this mineral species.
Fakes and treatments
No fake identified for this mineral species.


---
Hardness : 5.5 to 6
Density : 3.9
Fracture : Conchoidal
Streak : Brown-yellow


---
TP : Opaque
RI : 2.2
Birefringence : 0
Optical character : None
Pleochroism : None
Fluorescence : None
---
Solubility : -

Magnetism : None
Radioactivity : None