Pyromorphite - Encyclopedia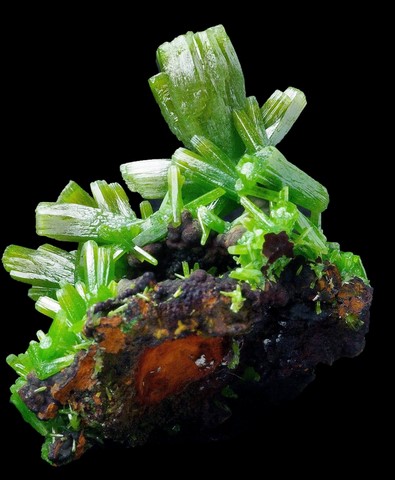 Class : Phosphates
Subclass : Anhydrous phosphate
Crystal system : Hexagonal
Chemistry : Pb5(PO4)3Cl
Rarity : Common
Pyromorphite is a secondary mineral that occurs in the oxidation zones of lead deposits, the phosphorus required for its formation come from the apatite of nearby rocks. It belongs precisely to the apatite super group and constitutes the phosphorus pole of the pyromorphite-mimetite-vanadinite series. Its name comes from Greek puros (fire) and morphê (shape) because of the look taken by the melted crystals. The pyromorphite occurs in variable colors sometimes bright : yellow, orange, brown or green. The crystals are generally hexagonal, often cavernous, and can evolve to the acicular facies, sometimes botryoidal. Due to its beautiful colors, the pyromorphite is highly coveted by mineral collectors, it is also a secondary lead ore.
Pyromorphite in the World
The finest specimens of pyromorphite come from the Chinese deposits, Daoping Lead Mine and Pingtouling where centimetric bright green crystals can cover surfaces of several square meters and while individual crystals can exceed 5 cm in size. The Bad Ems mine in Germany also supplied magnificent 5 cm hexagonal brown crystals grouped in masses of several tens of kilos as well as green barrel crystals (campylite facies). The Bunker Hill mine (Idaho, USA) produced yellow-green crystals up to 3 cm and yellow-orange spherical groups. The British lead deposits (Leadhills in Scotland and Caldbeck Fells in Cumberland) are also known for their centimetric green crystals. Beautiful brown crystals have been extracted from the Slovak mine in Mezica (Czech Republic) and very good green crystals from Pribram. The surface area of both Broken Hill (Australia and Zambia) also produced large brown crystals.
Pyromorphite in France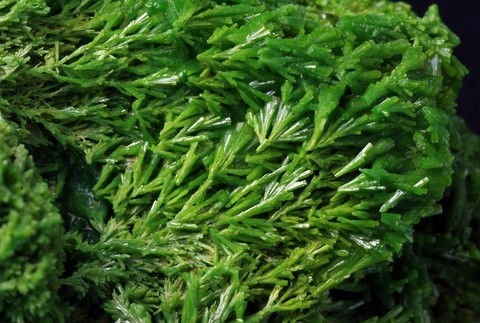 Pyromorphite is very present on the French territory which counts among the best deposits of the world with notably famous Les Farges Mine in Corrèze department which produced beautiful cavernous crystals up to 3 cm in size with an olive green to bright green color, sometimes brown (photo on the right). The old mine of Huelgoat in Finistère department gave big brown crystals and the small mine of Vézis crystals of 2 cm. More anecdotal, it is also necessary to note the deposits of Asprières (Aveyron), St-Salvy (Tarn), Pontgibaud (Puy-de-Dôme), Echassières (Allier), etc...
Twinning and special forms
Two twins exist for pyromorphite mineral species but they are very rare and hardly observable.

The pyromorphite crystals can sometimes be replaced by galena (pseudomorphs), especially on the German and Breton deposits. A very beautiful Chinese discovery of 2015 reported large crystals, up to 5 cm, transformed into pale blue plumbogummite (right picture). Great groups have been able to make pieces of several kilos.

Fakes and scams
No fake recorded for this mineral species.


---
Hardness : 3.5 to 4
Density : 7.04
Fracture : Irregular to subconchoidal
Trace : White, grey, yellow



---
TP : Opaque to translucent
IR : 2.048 to 2.058
Birefringence : 0.010
Optical character : Uniaxial -
Pleochroism : Weak
Fluorescence : Yellow to orange (rare)
---
Solubility : Nitric acid and carbonated or chlorinated water

Magnetism : None
Radioactivity : None