Vanadinite - Encyclopedia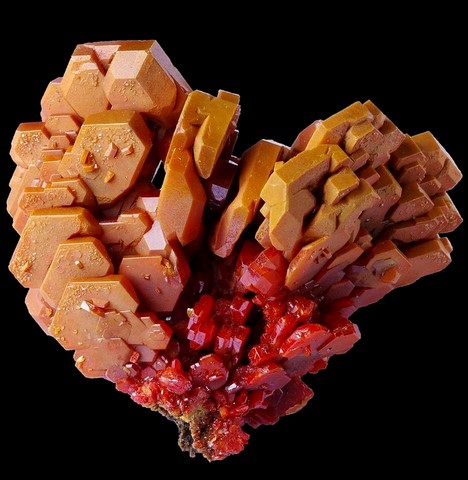 Class : Phosphates, arsenates, vanadates
Subclass : Anhydrous vanadate
Crystal system : Heagonal
Chemistry : Pb5(VO3)4Cl
Rarity : Uncommon

Vanadinite belongs structurally to the apatite group and forms a partial series with the mimetite Pb5(AsO4)3Cl and a very limited series with the pyromorphite Pb5(PO4)3Cl. When vanadinite contains as much vanadium as arsenic it is a variety called endlichite. It owes its name to the vanadium that composes it. Vanadinite is mainly formed in the gossans of lead bearing deposits associated with other vanadium minerals (mottramite, descloizite, etc...) and lead minerals (cerussite, anglesite, etc...). Vanadium comes from the oxidation of vanadiferous sulphides or from the host rocks by leaching of silicates. It occurs in short hexagonal prisms and sometimes skeletal. Fibrous or globular facies are rare. Its bright red to orange-red color turns brown in the presence of arsenic (endlichite). Due to its bright color, vanadinite is a sought-after mineral for collectors and can also be used as a lead or vanadium ore, since vanadium is mainly used as a hardener for steel in the iron and steel industry.
Vanadinite in the World
The World's finest specimens of vanadinite come from Morocco with bright red hexagonal crystals up to 5 cm in diameter on white
baryte
blades found in the Mibladen-Aouli mining district. Other Moroccan deposits have provided amazing specimens Djebel Mahseur, Touissit (endlichite), Taouz. This last site having delivered gemmy crystals on black stalactite of
goethite or psilomelane
. The Namibian Abenab deposit near Tsumeb with its 6 cm crystals encrusted with descloizite can compete with Moroccan localities. Some American deposits in Arizona (Apache Mine, Pure Potential Mine, etc...) and New Mexico, several Mexican deposits (Aquiles Serdan, Zimapan, etc...) and the Broken Hill mine in Australia have also produces centimeter crystals of good quality.
Vanadinite in France
In France, vanadinite has been reported in micro-crystals on several occurrences, including the Mine of Montmins (Allier), Crozet (Loire), St-Bresson (Haute-Saône), Plouguin (Finistère) or Port-d'Agrès (Aveyron).


---
Hardness : 2.5 to 3
Density : 6.88
Fracture : Sub-adamantine, resinous
Trace : White, yellow, brown



---
TP : Translucent to opaque
IR : 2.350 to 2.416
Birefringence : 0.066
Optical character : Uniaxial -
Pleochroism : Weak
Fluorescence : None
---
Solubility : Nitric and hydrochloric acid

Magnetism : None
Radioactivity : None