Arseniosiderite - Encyclopedia
Class : Phosphates, arsenates, vanadates
Subclass : Hydrated Arsenates
Crystal System : Monoclinic
Chemistry : Ca2Fe3O2(AsO4)3 3H2O
Rarity : Uncommon



Arseniosiderite is a hydrated arsenate of iron and calcium. It is a secondary mineral which is formed by oxidation of arsenic minerals, mainly arsenopyrite and scorodite. It owes its name to its chemical composition arsenic plus siderite. Flattened, acicular crystals are rare and do not exceed 2 mm. Arseniosiderite forms much more readily fibroradiated aggregates or concretionary masses ranging in color from golden yellow to orange-brown and black-brown.



Main photo : Arseniosiderite from Romanèche, Saône-et-Loire, France © Rob Lavinsky

Arseniosiderite in the World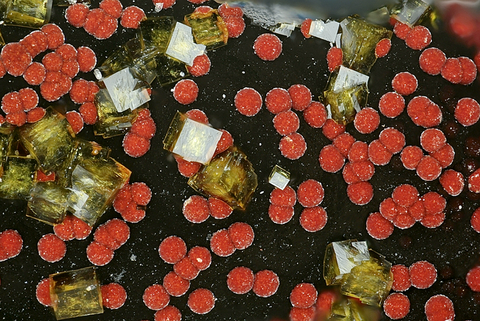 Arseniosiderite is known from the metamorphic zinc deposits of Franklin and Ogdenbourg (New Jersey) and several other American localities. Beautiful specimens also come from the Ojuela mine (Mapimi, Mexico). Arseniosiderite also exists in several veins in the Black Forest and Saxony (Germany), Cumberland (England), as well as in Tsumeb (Namibia).

Photo : Arseniosiderite and bariopharmacosiderite from Clara Mine, Germany © Michael Förch
Arseniosiderite in France
In France, the discovery deposit, Romanèche (Saône-et-Loire) provided superb fibroradiated samples, perhaps the best known.
Twinning and special crystallizations
No known twin for this mineral species.
Fakes and treatments
No fake or treatments identified for this mineral species.


---
Hardness : 4.5
Density : 3.6
Fracture : Fibrous
Trace : Brown-yellow



---
TP : Opaque
RI : 1.792 to 1.898
Birefringence : 0.080
Optical character : Biaxial -
Pleochroism : Strong
Fluorescence : None
---
Solubility : Acids

Magnetism : None
Radioactivity : None