Bikitaite - Encyclopedia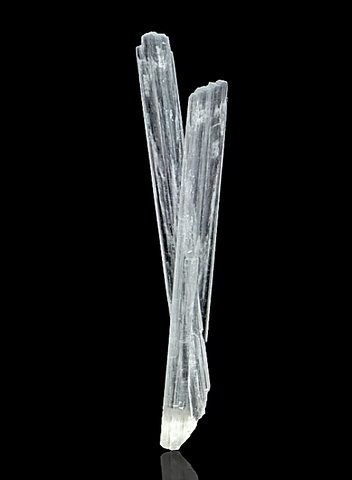 Class : Silicates
Subclass : Tectosilicate
Crystal System : Monoclinic
Chemistry : LiAlSi2O6 H2O
Rarity : Very rare


Bikitaite is the only currently known lithium zeolite. Chemically, it can be considered as a hydrated spodumene which forms before stilbite in lithium pegmatites. It owes its name to its place of discovery : Bikita, near Fort Victoria in Zimbabwe. Its crystals are flattened pseudo-orthorhombic prisms or strongly striated lamellar yellowish-white prisms, which can reach up to 10 cm, and sometimes grouped in radiate aggregates. It is a very accessory ore of lithium.
Main photo : Bitikaite from Foote Lithium Co. Mine, North Carolina, USA © Black Barnett
Bitikaite in the World
It was considered extremely rare until the discovery of the large deposit of Bikita where, associated with quartz, calcite and eucryptite, it is exceptionally abundant and forms aggregates of crystals of several centimeters. American lithium pegmatites from Foote Lithium Co. (North Carolina) yielded transparent crystals up to 3 cm in length.
Bitikaite in France
Bikitaïte is not present in the French underground.
Twinning and special crystallizations
No known twin known for this mineral species.
Fakes and treatments
No fake or treatment recorded for this mineral species.


---
Hardness : 6
Density : 2.3
Fracture : Conchoidal
Trace : White


---
TP : Translucent to transparent
RI : 1.510 to 1.523
Birefringence : 0,013
Optical character : Biaxial -
Pleochroism : None
Fluorescence : None
---
Solubility : None

Magnetism : None
Radioactivity : None