Legrandite - Encyclopedia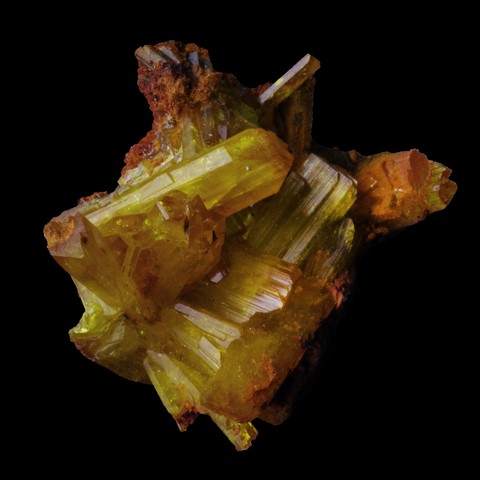 Class : Phosphates, arsenates, vanadates
Subclass : Hydrated arsenates
Crystal system : Monoclinic
Chemistry : Zn2(AsO4)(OH) H2O
Rarity : Rare


Legrandite is a secondary zinc arsenate formed in the superficial oxidation zone of these zinciferous deposits, impregnated in limestone and more rarely in granite pegmatites, where it rubs shoulders with other oxidized zinc minerals (smithsonite, adamite, etc...). It owes its name to Mr. Legrand, Belgian mine manager who collected the first sample of this mineral at the Flor de Peña Mine in Mexico. It usually occurs as divergent or radial aggregates of elongated lamellar prismatic crystals, colorless to slightly greenish white, more commonly canary yellow to honey yellow. Its very lively resinous luster is characteristic. It is a rare mineral sought after by collectors.
Legrandite in the World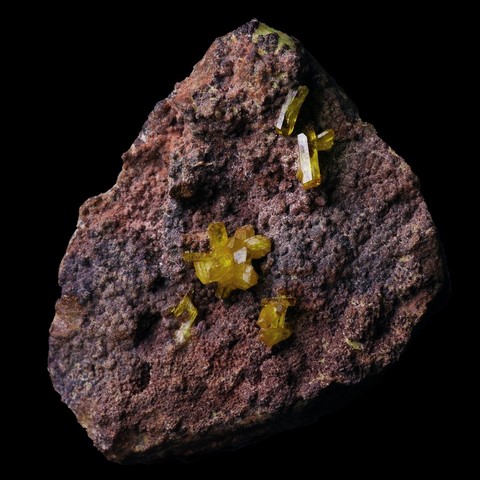 The most beautiful crystals come from the Ojuela mine near Mapimi (Mexico): they are superb centimetric elongated crystals of honey yellow color implanted in cavities of limonite (see photos). Exceptional crystals, which can reach 15 cm, and extraordinary groups measuring up to 23 cm have been discovered there. The green adamite associated with it composes mineralogical samples of unstoppable beauty. Centimetric crystals are known from Tsumeb (Namibia).

Legrandite in France

This mineral is not present in the French underground.
Twinning
No twinning known for this mineral species.
Fakes and treatments
No fake inventories for this mineral species.


---
Hardness : 4.5
Density : 4
Fracture : Irregular
Trace : White


---
TP : Translucent to transparent
RI : 1.675 to 1.740
Birefringence : 0.66
Optical character : Biaxial +
Pleochroism : Visible
Fluorescence : None
---
Solubility : -

Magnetism : None
Radioactivity : None