Zunyite - Encyclopedia
Class : Silicates
Subclass : Sorosilicates
Crystal system : Cubic
Chemistry : Al13Si5O20(OH,F)18Cl
Rarity : Rare


Zunyite is a silicate present in highly aluminous shales, some hydrothermal veins and altered volcanic rocks. It owes its name to its locality of discovery : the Zuni mine in San Juan County, Colorado, USA. It forms very beautiful tetrahedral or pseudo-octahedral crystals up to 2 cm, frequently twinned, colorless, greyish white, light pink or brown. It is a mineral only reserved for the collection, but little known collectors.
Zunyite in the World
Zunyite occurs in good specimens in the Zuni mines near Silverton, Colorado, and Silver City, Utah. Beautiful pale pink millimetric crystals have been found in aluminous schists near Postmasburg in South Africa. The largest crystals come from Dome Rock Mountains near Quartzite, Arizona. Among the other localities of this mineral, note the beautiful transparent tetrahedrons of Kuni (Honshu, Japan) but also the salt dome of Qalat-e Bala, Hormozgan, Iran which supplied brown crystals with hematite up to 4 cm in size, rarely twinned.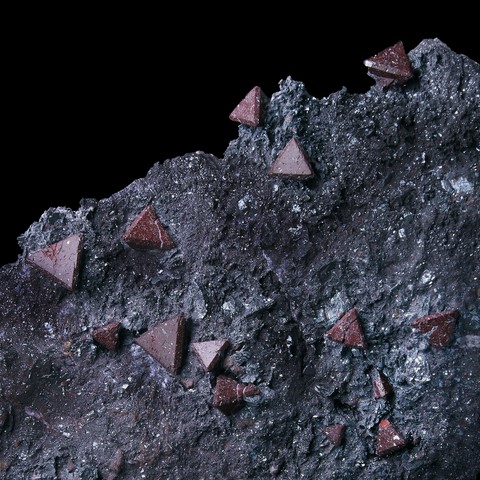 Zunyite in France
Zunyite is not present in the French underground.
Twinning
Interpenetrating crystals of zunyite are common, however the true twin on the [111] axis is actually very rare. Ideally it forms a flat face like a 6-pointed star ; two tetrahedra are then nested one inside the other with a rotation of 60°. It happens that the 2 tetrahedra of the same twin present different truncations, thus giving rather singular sets.
Fakes and treatments
No fake inventories for this mineral species.


---
Hardness : 7
Density : 2.88
Fracture : Irregular
Trace : White


---
TP : Opaque to transparent
RI : 1.592 to 1.600
Birefringence : 0
Optical character : -
Pleochroism : None
Fluorescence : None
---
Solubility : Insoluble

Magnetism : None
Radioactivity : None