Effects of light on mineral collections
Our experience :
We all know it to have already noticed and observed it in our daily life, sunlight and more particularly UV (ultra-violet) affect the matter they meet. Their effects range from the simple discoloration of a fabric, plastic or paper to the burning of the skin, commonly known as "sunburn".

Minerals do not cut to this rule and they too are affected by these UV rays, in very different ways depending on the species. In order to avoid unpleasant surprises or a slow vicious and pernicious change in their colors, it is prudent not to expose them in direct sunlight. Another unsuspected and less well-known but no less dangerous source of UV in showcases is halogen bulbs. These bulbs are now gradually replaced by LEDs, but generated quite a lot of UV.

In order to highlight what is really happening on collection samples, we selected 10 different minerals of low values and we exposed them simultaneously for about forty minutes to a source of long waves UV source and a short waves UV source (254/368 nm) of 36W each. This represents the equivalent of several years of exposure to full sun.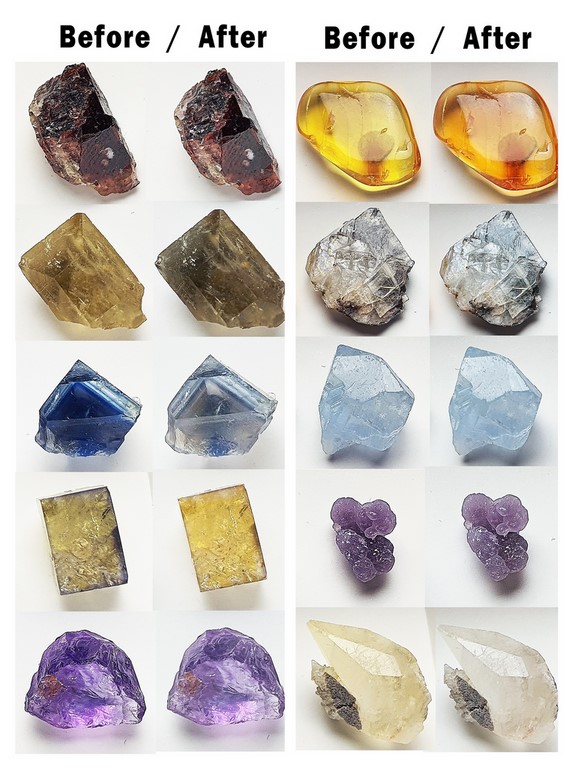 Left column
Red zircon : No color change
Yellow barite : Darkens and becomes greyish
Blue fluorite : Completely discolored and gray
Gray fluorite : Turns yellow
Amethyst : Slight discoloration

Right column
Amber : Becomes darker
White barite : Slightly blued
Celestine : No color change
Chalcedony : Very slight discoloration
Calcite : Loss of yellow
Results
It is common knowledge in the world of minerals that certain stones in certain deposits are particularly sensitive to discoloration, this is the case for Auvergne blue fluorites (La Barre, Le Beix, Puy St-Gulmier, etc...). This is fully verified here, a beautiful and vivid blue fluorite can become gray and fade, and it is undoubtedly one of the most sensitive minerals. Great care should therefore be taken, and it is undoubtedly better to store these specimens in opaque boxes closed protected from light.

Barytes are also and surprisingly sensitive to UV, and can become darker or even change color completely, gray barytes from many deposits turn bluish in the Sun.

The calcites and amethysts also seem quite sensitive, and take on more bland tones, if this discoloration is very slight for the amethyst, for calcite the yellow can disappear almost completely...

Celestine and zircon are the only two samples to have undergone no change during the experiment.

Conclusion
The long-term variation in color due to exposure to daylight varies greatly from one sample to another, but also from one deposit to another. It is difficult to know in advance what will become of the color over time, so in order to avoid unpleasant surprises, it is better to avoid exposing its minerals to direct sunlight.